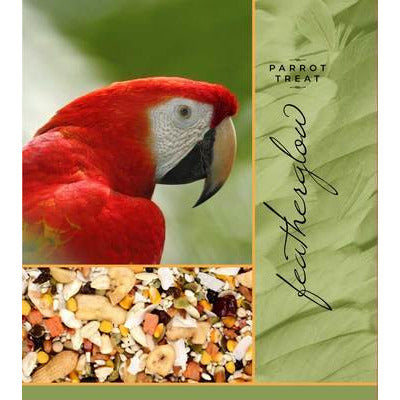 Volkman Featherglow Diets Parrot Treat 4lb
by Volkman
DESCRIPTION
Safflower based treat mix loaded with fruits and nuts.
DIRECTIONS
*Feeding Instructions*: For best results when introducing new food to your bird, begin with an equal amount of old and new food. Gradually increase the amount of new food until all of the old food is used. Fresh food and water should be available at all times.
*Daily Feeding amount*: for Small Birds 1 Tablespoon, for Medium Size Birds 2 to 4 Tablespoons, for Small Parrot 1/8 to 1/4 Cup, for Large Parrot 1/4 to 1/2 Cup.
INGREDIENTS
Safflower Seed, Corn, Shelled Peanut, Banana, Papaya, Dried Apple, In-Shell Pumpkin Seed, Wheat, Dehydrated Carrot, Coconut, Dehydrated Peas, In-Shell Almonds, Dates Pitted, Peppers, Kiwi, Orange Oil, Safflower Oil, Sun-Cured Apricot, Sun-Cured Nectarine, Sun-Cured Pineapple, Sun-Cured Raisins, Sun-Cured Cranberries, Sun-Cured Peaches, Sunflower Oil, Vegetable Oil, Banana Flavor, Citric Acid, Sugar, FD&C Yellow No.6, Sulfur Dioxide (preservative). (Not a Complete Diet, supplement diet with fresh fruits, vegetables and treats.)
ANALYSIS
Crude Protein, not less than 10.50%, Crude Fat, not less than 17.00%,
Crude Fiber, not more than 7.25%,
Moisture, not more than 15.00%,
Ash, not more than 2.25%.
ALLERGENS
Manufactured in a facility that processes products that contain: Peanuts, Tree Nuts, Wheat, Fish, Shellfish, Milk, Egg, Soybean.