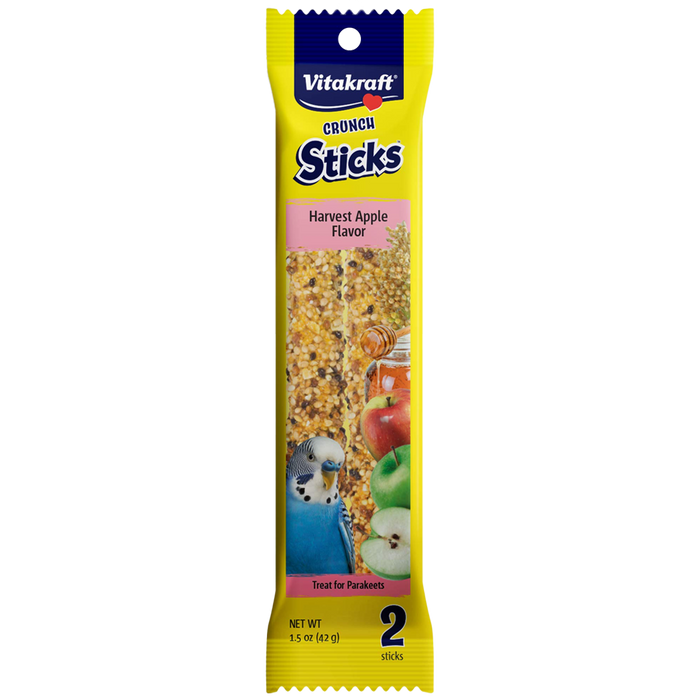 Vitakraft Parakeet Crunch Sticks Harvest Apple Flavor 1.5 oz
by Vitakraft
Description
Give your feathered pal a fun and tasty vitamin-fortified treat with Vitakraft Triple Baked Crunch Sticks Orange & Apricot Flavor Parakeet Treat. This ready-to-feed treat is loaded with tasty grains, seeds, dried orange and a touch of honey to satisfy your parakeet's love for crunchy goodies. It's also triple baked onto a natural wood stick that's safe to peck on, and makes for a long-lasting chew that supports beak health and combats stress that can lead to feather plucking. Plus, it comes with two treats so it's perfect for multiple birdies.

Key Benefits
Provides your parakeet with essential vitamins in a deliciously crunchy treat with a chewable wood stick underneath.
Outside is made with crunchy and wholesome grains like millet and wheat, plus dried orange with a touch of honey.
Wood stick inside promotes healthy pecking behavior to support beak health and reduce boredom.
Triple baked for crunchiness and taste, and is long-lasting so it'll keep your pal occupied.
It's ready to feed out of the package and is great as a tasty treat along with a balanced diet; package comes with two sticks.