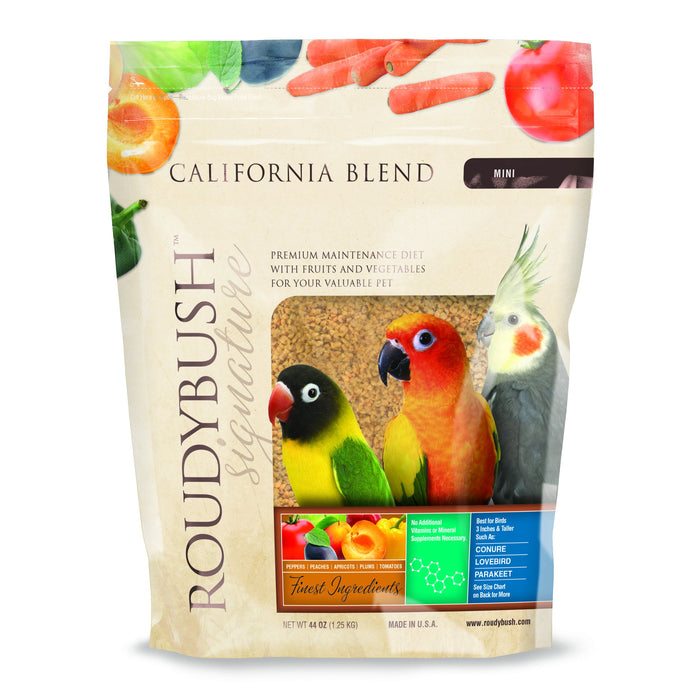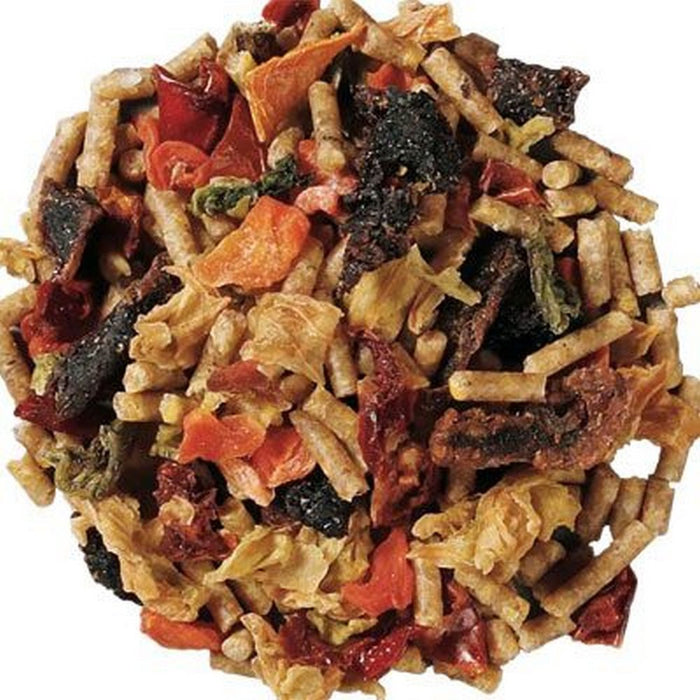 Roudybush California Blend Mini 44oz
by Roudybush
A wholesome blend of dried peaches, apricots, plums, bell peppers, carrots, tomatoes, and cabbage combined with Roudybush Daily Maintenance pellets and a healthy dose of sunshine. Use this diet when switching your bird from its old diet to Roudybush. Continue to feed to adult birds that are not laying eggs or feeding chicks. Lories and lorikeets, which will accept this diet, will have drier droppings than they have on nectar. If you have a bird that is a chronic egg-layer or a bird with a tendency to develop hypocalcaemia (like African Greys), mix 2/3 Maintenance with 1/3 High-Energy Breeder to supply more calcium and vitamin D3. Do not give additional vitamin or mineral supplements. Fresh fruit and vegetable treats may be given as a minor part of the diet.  It combines the great nutrition of pellets with the eye-catching colors of delightfully delicious dried fruits and vegetables. This premium pelleted diet will help your bird feel better and look better as he will get the every day nutrition he needs for healthy living. There are no artificial colors or added sugars to worry about and only natural preservatives are used. This is a great maintenance diet for seed-eating birds. 
Ingredients:
Ground Corn, Ground Wheat, Soybean Meal, Soybean Oil, Alfalfa, Dried Carrots, Dried Bell Peppers, Dried Cabbage, Dried Peaches, Dried Apricots, Dried Plums, Dried Tomatoes, Calcium Carbonate, Dicalcium Phosphate, Salt, L-Lysine, DL-Methionine, L-Arginine, Niacin, Mixed Tocopherols (preservative), Silicon Dioxide (anti-caking aid), Vegetable Oil, Citric Acid, (preservative), Rosemary Extract, Alpha Tocopherol Acetate (source of Vitamin E), Ascorbic Acid, Manganese Sulfate, Yucca schidigera Extract, Dried Yeast, Biotin, Calcium Pantothenate, Zinc Oxide, Riboflavin, Pyridoxine Hydrochloride, Vitamin A Acetate, Thiamine Mononitrate, Potassium Iodide, Vitamin D3 Supplement, Folic Acid, Ammonium Hydroxide, Acetic Acid, Sorbic Acid (preservative), Tartaric Acid and Natural Apple Flavoring.

Guaranteed Analysis:
Crude Protein (min) 11.0%
Crude Fat (min) 6.0%
Crude Fiber (max) 3.5%
Moisture (max) 12.0%
Introducing birds to pellets/nibbles/crumbles: Birds that have never been fed pellets or crumbles generally do not recognize them as food at first. Also, pellets are lower in fat than seeds, so at first most birds will not like them as much as seeds. Some birds readily accept pellets or crumbles as soon as they realize they are edible, while some individuals are very resistant to switching.

Ways to switch your birds over to pellets/nibbles/crumbles:
Controlled Cold Turkey: This method may be used with finicky, resistant birds that are starting out at a normal or excessive body weight. Remove all the old diet and fill the feeders with pellets. If you have the ability to weigh your bird, weigh first thing in the morning on the day of the switch. Weigh your bird every morning. If your bird looses more than 3-5% of its body weight, put it back on its old diet for 1-2 weeks, then try the switch again. If you are unable to weigh your bird, change the cage papers the day you make the switch and do not use litters, so you can evaluate droppings. If the fecal part of the dropping is small and dark green or black or if the droppings have no fecal portion, it means your bird is not eating. You can go for two full days for small species of birds and three full days for large species of birds. If your bird's droppings are still anorexic at the end of the switch period, put your bird back on his old diet for 1-2 weeks and then try the switch again. Most birds will switch the first time. The most finicky birds may take three attempts.

Gradual Switch: This technique works with birds that will try and eat many different foods. Mix ¾ of the original diet with ¼ of the Roudybush pellets or crumbles. Feed this mixture for one to two weeks. Increase the proportion of Roudybush to ⅓ and feed for one to two weeks. Continue increasing the proportion of Roudybush. When you reach ¾ or more of Roudybush, change the cage papers and do not use litter so you can evaluate droppings. If you see anorexic droppings (see description above in Controlled Cold Turkey), add more of the original diet for a week or two. This method is slower, but safer for those owners who cannot closely monitor their birds.

Act as if you are eating the Roudybush. Many birds will try food they see their owners eating. Many birds will like the Roudybush pellets once they have tried them as treats from their owner and convert them easily after that. Always make sure your bird's droppings indicate they are eating once you completely make the switch to pellets.

Store in a cool, dry place. Do not store on concrete.