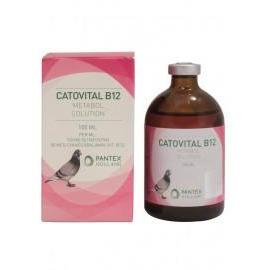 Pantex Catovital B12 100 ml
by Pantex
METABOL
SOLUTION
100 ML
Composition:
Per ml:
Butafosfan                                        100 mg
Cyanocobalamin (Vit. B12)          50 mcg
Indications:
CATOVITAL B12 is used in racing pigeons to improve muscle strength and general condition.
Vitamin B12 will boost the protein-, carbohydrate- and fat metabolism. It stimulates the production of red blood cells, resulting in an increased oxygen intake in the bloodstream. Vitamin B12 plays an important role in the Krebs cycle. This cycle regulates the cellular energy metabolism. Butafosfan is an organic phosphorus. It ensures faster recovery after heavy races.
Dosage and administration:
Orally via the drinking water.
General dose: 4 ml per 2 litres of drinking water.
Prevention: administer for 2 consecutive days.
Therapy: administer for 5-7 consecutive days.
Can be injected; consult your veterinarian for further information.
Change medicated water on a daily basis and supply as sole source of drinking water for treatment duration.
Storage:
Store at 8-15°C and protected from light. Shelf life after piercing the rubber stopper: 4 weeks.