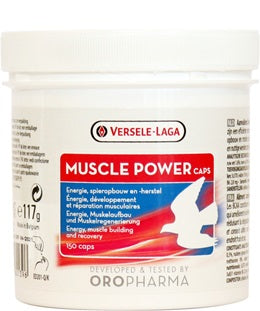 Oropharma Muscle Caps 150 ct
by Oropharma
BCAA capsules for quicker and better muscle building
Muscle Power capsules are BCAAs (Branched Chain Amino-acids). Those three essential amino acids are valine, leucine en isoleucine, used to prevent muscle breakdown and stimulate muscle building.
Quicker and better muscle building
Reduction of muscle breakdown during flights
Less fatigue, quicker recovery.
Composition
Cellulose, silica
Analytical constituents
Crude protein 69.5%, crude fibre 0.3%, crude fat 1.6%, crude ash 0.9%, lysine 0%, methionine 0%, sodium 0%
Additives/kg
Nutritional additives
3c370 L-valine 150 mg, 3c3.8.1 L-isoleucine 150 mg, 3a831 vitamin B6 2.8 mg
Sensory additives
L-leucine 300 mg
Directions for use
1 capsule directly in the bill
- in preparation for the race: the last two days before basketing, in the evening place 1 MUSCLE POWER Caps in the bill
- after the race: for a good and quick recuperation, immediately after returning home place one MUSCLE POWER Caps in the bill and repeat it the next day
Tips
When administering, always first wet the capsule in a little water to prevent it from sticking in the pigeon's throat.