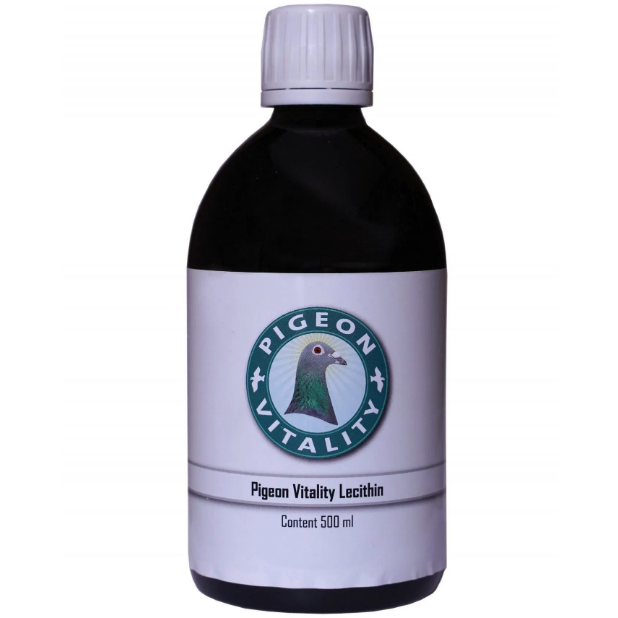 Pigeon Vitality Lecithin Oil 500ml
by Pigeon Vitality
Lecithin is a generic term that applies to any fatty substance composed of fatty acids, phospholipids, triglycerides, glycolipids, glycerol and choline. Although there are many benefits for the racing pigeons from lecithine, the most important function is as an emulgator which aid in mixing water and fat.
As a consequence, adding Lecithin to the grain will increase the bioavailability an uptake of the fat in the grain from the body fluid. In this way Lecithin supports the pigeons with extra energy!
The Pigeon Vitality Lec-ithin is made of the very best raw materials approved for human support and is produced by license to the high quality pharmaceutical Norwegian company Pharmatech (www.pharmatech.no) . Again, – we select only the best raw material and processing for our pigeons!
Application/usage of Lecithine
Beneficial for racing pigeon and is to be added to the grain before basketing .
Recommended dosage is a dinner spoon (10 ml)  per kilo grain.
1-2 days before basketing (depending on distance).
Benefits from Pigeon Vitality Lecithin
– Increase uptake of the fat from the grain and boost energy in race
– A source of choline, which is an essential nutrient.
– May help maintain healthy cholesterol levels
– Supports healthy liver function
–  Can be mixed with all other Pigeon Vitality products
Legislation
Lecithin is approved by the United States Food and Drug Administration for human consumption. Le-cithin is admitted by the EU as a food additive, designated as E322.