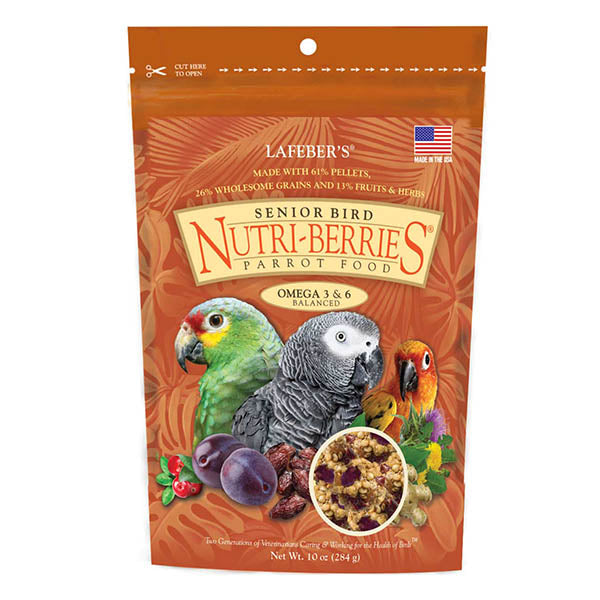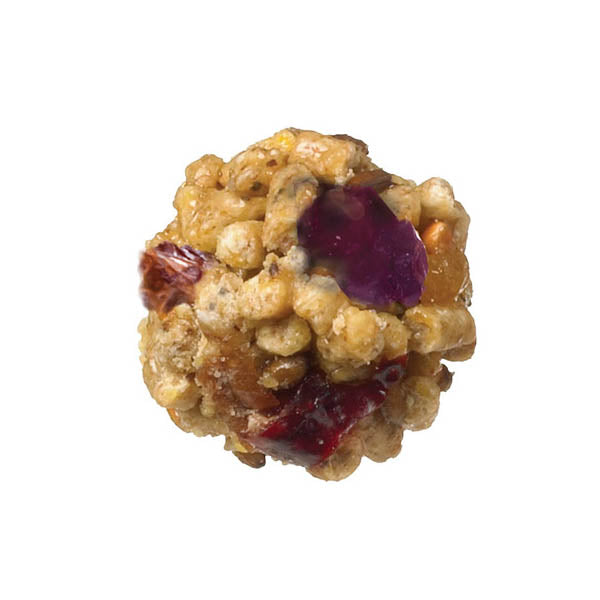 Lafeber Nutri Berries Senior Bird Parrot 10oz
by Lafeber
Product Description
Compared to us, Amazons, African greys, and other parrots seem to age gracefully, at least outwardly. After all, they don't have as noticeable changes in appearance. These long-lived parrots are, however, susceptible to many of the same age-related conditions we face.
And like us, their healthcare needs change as they age, especially their nutritional requirements. Fortunately, Senior Bird Nutri-Berries was specifically formulated to give your bird all the nutrients he needs during his golden years without sacrificing the tastes or textures he craves.
We added herbs like milk thistle for its anti-inflammatory and anti-arthritic effect, as well as dandelion to support bone health and improve liver function. We included ginger — a powerful anti-inflammatory herb — to help ease tendonitis, lower cholesterol and blood pressure, and to help prevent blood clots. We also combined the joint-health supplements glucosamine, to combat osteoarthritis, and chondroitin, to ease joint pain and swelling.
Senior Bird Nutri-Berries are also packed with real pieces of age-defying fruits: plums, which provide dietary fiber and are high in vitamins A, C, K, potassium, fluoride, and beta-carotene; cranberries, which are full of antioxidants that strengthen the immune system by flushing out harmful toxins; and dates, which are iron-rich fruits that contain flavonoid polyphenolic antioxidants known as tannins that possess anti-infective, anti-inflammatory, and anti-hemorrhagic properties.
Senior Bird Nutri-Berries offer the same balanced nutrition as our Classic and Gourmet Nutri-Berries, plus they are formulated to meet the special needs of mature birds. They contain 61% pellets, 26% wholesome grains, and 13% fruits and herbs — the perfect recipe for a long, happy life for your pet bird.
Packed with Age-Defying Herbs & Fruits
Feed as a main diet or along with your bird's regular diet
No Artificial Flavors or Colors
Non-GMO formula
61% pellets, 26% wholesome grains, and 13% fruits & herbs
Low-calorie diet rich in antioxidants, glucosamine, & fiber
Senior Bird Nutri-Berries for Parrots
Oat Flour, Ground Corn, Wheat Flour, Wheat Bran, Maltodextrin, Hulled White Proso Millet, Oat Groats, Red Millet, Dried Dates, Dried Cranberries, Dried Plums, Hydrolyzed Soy Protein, Hulled Canary Grass Seed, Canola Seed, Powdered Cellulose, Corn Syrup, Dicalcium Phosphate, Safflower Seed, Peanuts, Corn Oil, Glycerin, Plant-Based Propylene Glycol, Canola Oil, Gelatin, Soybean Meal, Ground Limestone, Dried Whole Egg, Choline Chloride, Chondroitin Sulfate, Iodized Salt, Citric Acid (A Natural Preservative), Mixed Tocopherols For Freshness, Dandelion Root, Ginger, Milk Thistle, DL-Methionine, Vitamin E Supplement, Ascorbic Acid, Niacin Supplement, Beta Carotene, Manganese Proteinate, Glucosamine Sulfate, D-Calcium Pantothenate, Zinc Proteinate, Biotin, Riboflavin Supplement, Sodium Selenite, Pyridoxine Hydrochloride, Vitamin A Acetate, Thiamine Mononitrate, L-Lysine, Copper Proteinate, Vitamin B12 Supplement, Vitamin D3 Supplement, Folic Acid.
Guaranteed Analysis
Crude Protein (min): 11.00%
Crude Fat (min): 5.00%
Crude Fiber (max): 7.00%
Moisture (max): 14.00%
Omega 3 Fatty Acids (min): 0.48%
Omega 6 Fatty Acids (min): 2.97%
Package Dimensions:
10 ounce: 10 x 6.75 x 2
3 pound: 10.5 x 9 x 4.125