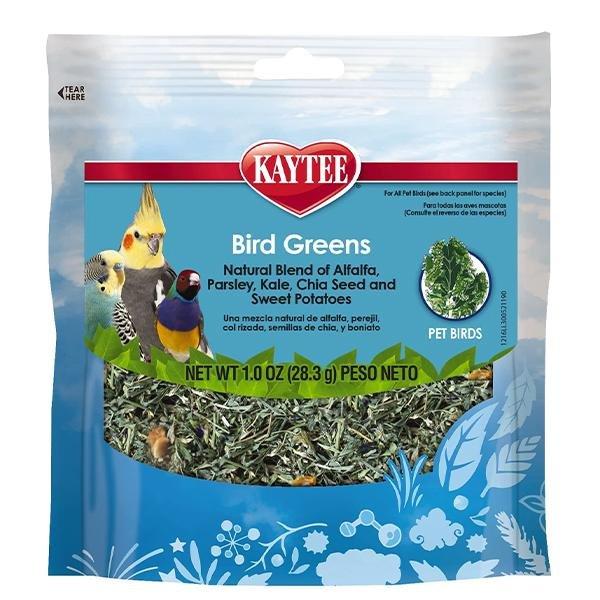 Kaytee Bird Greens 1oz
by Kaytee
Description
Give your beautiful bird a reason to chirp with Kaytee Forti-Diet Pro Health Bird Greens, a tasty and nutritious bird treat formula.
-

 

These bird treats are crafted to recreate the selection of bird food found in your pets natural habitat.
-

 

Kaytee Forti-Diet Pro Health Bird Greens are made from an all-natural blend of alfalfa, parsley, kale, chia seed and sweet potatoes - everything your bird loves to eat.
-

 

These bird treats are filled with taste and nutrition. The vegetables contain plenty of vitamins and minerals that will support your birds health and vitality.
-

 

You can put Kaytee Forti-Diet Pro Health Bird Greens in its own separate bowl in your birds habitat or sprinkle the bird treats over bird food to enhance your pet's daily diet.
-

 

This could be an especially useful option if your bird is a picky eater and needs a little tasty encouragement to give the regular bird food a try.
-

 

The variety of ingredients and flavors in this bird treat formula can encourage your bird's natural foraging behavior. Foraging keeps your bird active and mentally stimulated, which helps support overall mental wellbeing.
Ingredients
Dehydrated Alfalfa Leaves, Dehydrated Parsley, Dehydrated Kale, Chia Seed, Dehydrated Sweet Potatoes.
Guaranteed Analysis
Crude protein (min.) 21%, crude fat (min.) 2%, crude fiber (max.) 16%, moisture (max.) 12%.