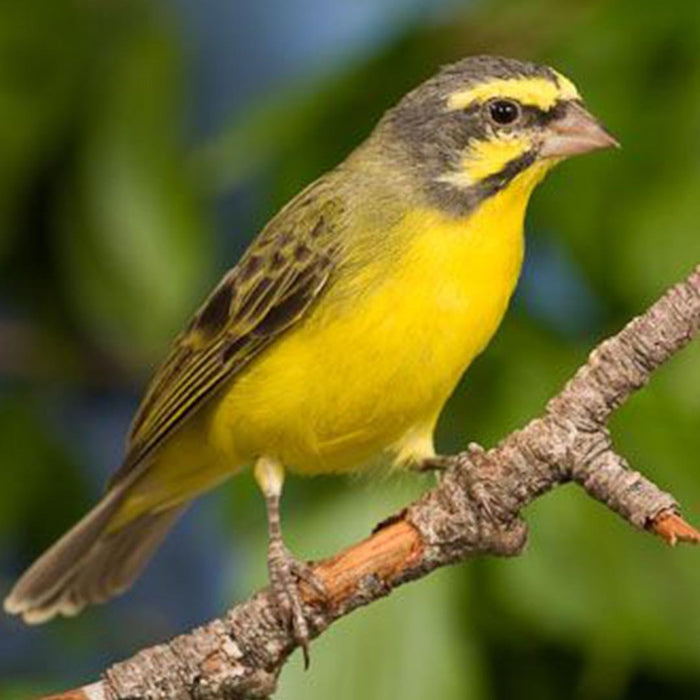 Finch Green Singer Female
by Birds For Sale
Description: Very attractive, chipper little songbirds, the Yellow Fronted Canary (Serius Mozambicus) are a popular African finch that is closely related to canaries and are often known as the Green Singer finch. These Yellow Fronted Canary birds for sale are hardy and active, and the male's song is a real pleasure to hear. Males sing their melodious, cheerful songs throughout the day during the breeding season. They should not be housed with Grey Singers and can become quite aggressive during the breeding season. Only one pair of Green Singers should be housed in a mixed aviary.  
Size / Weight: 4.25-5" / 17g
Temperament: This species has the potential to be housed in a communal aviary, however, Green Singing Finches may show aggression toward other species with similar plumage to their own (i.e. yellow coloration) such as Saffron Finches and Cuban Melodious Finches, and thus should not be housed with these species. Additionally, because males can be aggressive toward one another, only one pair of green singers should be housed per enclosure. Green Singers can be housed in cages, flights, or aviaries; if housing outdoors in temperate climates, be sure to provide adequate shelter from storms, winds, and cold weather (below 50°F).
Lifespan: 8-10+ years, however, reports have shown that with proper care Green Singers have lived for over 20 years in captivity.
Diet: Diet mainly consists of seeds and insects.  Termites, aphids, grasshoppers, and other insects are especially important during the breeding season when chicks demand a relatively high-protein diet. Other food items include leaves, fruit, petals, and nectar. We recommend our Classic Finch Seed, 
Breeding: Autumn/winter in Southern hemisphere; nesting tends to occur from August/September through January; breeding season can be artificially induced by manipulating temperature, diet, etc. Green Singers are best bred between 2 and 4 years of age. Breeding can be accomplished in cages, flights, or aviaries. Perches within the enclosure should be secured firmly to permit successful copulation. The breeding diet should be introduced about 1 month prior to anticipated breeding. Green Singing Finches are monogamous with a strong pair bond, though some breeders have had success breeding the birds as trios (2 hens with 1 cock). Only house one pair (or trio) per enclosure; colony breeding multiple pairs does not tend to be successful, and housing more than 1 pair together requires a very spacious and well-planted enclosure. Ideally, pairs should not be kept within earshot of each other to maximize productivity. Although an open cup nest is typical, some green singers will also utilize a nest box. Additional green food, in the form of grass and other plant sprouts, as well as insects, is required when the pair are raising young. The parents tend to leave the nest at even slight disturbances. They usually return quickly, but when breeding should be provided with as much privacy as possible.