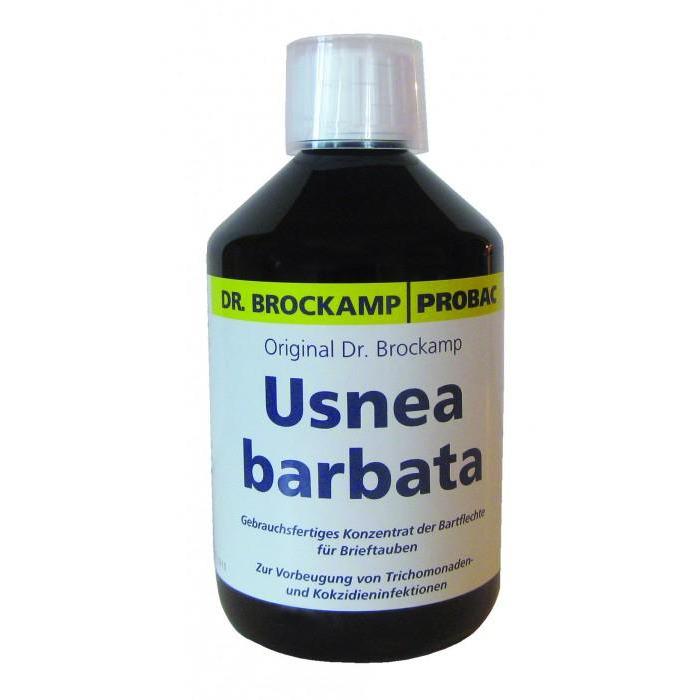 Dr. Brockamp Usnea Barbata 500 ml
by Dr. Brockamp
Usnea barbata
Ready-to-use tincture of sycosis for racing pigeons

Trichomoniasis
The fight against trichomoniasis has central importance in regard to the performance of the racing pigeon. Apart from the travel time, no medications should be used, as far as possible, in order to promote the natural resistance of the animals. Here, regular use of the natural product usnea barbata has proven its value from sycosis. Usnea barbata applied 2 x weekly or every 5-6 weeks for 5-7 days has exceptional preventative effects. It achieves natural protection without the animals building resistances.
Breeders that have problems with their young pigeons can also use usnea barbata over longer periods of time.
Lichen produces a series of secondary metabolites, that work as antioxidants and lead to an activation of the immune system. The have very strong resistance-building effects and regulate the functionality of the organs.
A 5-7 day treatment with Ronidazol BT (10 %) is recommended prior to travel in order to start the season absolutely sure and trichomoniasisfree.
During the travel time we recommend, however, to no longer use ronidazol, because it can have a debilitating effect. We have had the best experiences with Metro plus produced according to Dr. Erdösz, which is sprayed directly on every animal, diluted 2:8. With this highly effective and agreeable combination of active agents, you achieve freedom of trichomoniasis within just a few minutes and do not waste time in regard to the regeneration phase. Please contact us personally for more information.
Different pigeon strains have very different susceptibility to trichomoniasis. Therefore, as long as the training behaviour of the pigeons is good at the house, they should not be treated. The longer you go without treatment, the more constant the form curve will be.
For administering through drinking troughs.

Recommended dosage:
5 ml usnea barbata to 1 litre water 2 x weekly