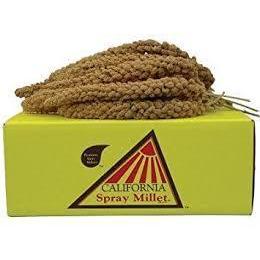 California Millet Spray Premium 5lb
by Golden Farm
California Golden Farm Products Spray Millet Bird Treats are a healthy, nutritious, pleasantly sweet-smelling product to support your bird's good health. Birds are very sensitive to what they eat. 
Huge heads 12 Inch long 1 to 1. 5 Inches thick.

Highest quality spray millet available.

It is grown on fertile mineral rich soil that yields a healthy, plump and sweet smelling product.

It is handpicked, sun-dried, packaged and stored on in a pesticide-free environment.

Made and sourced in the USA.