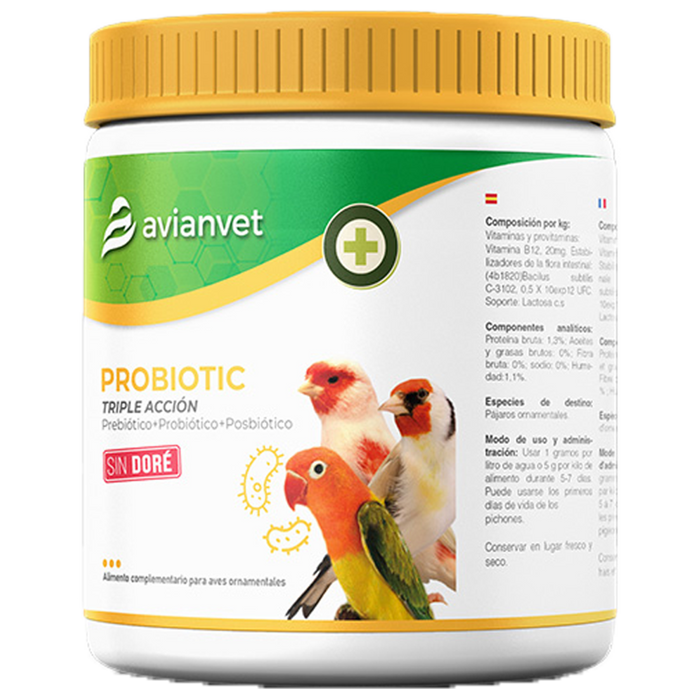 Avianvet Probiotic Triple Action
by Avianvet
Avianvet Triple Action Probiotic 1 Kg. is a complementary food for birds. Probiotic Triple Action is a combination of several ingredients with prebiotic, probiotic and postbiotic effects.
Probiotic without "Doré" effect
Composition per Kg of Avianvet Triple Action Probiotic: Vitamins and provitamins: Vitamin B12 20 mg. Intestinal flora stabilizers (4b1820)Bacilli subtilis C-3102, 0.5 x 10 expresses 12 CFU. Lactose Support cs
Analytical components: crude protein 1.3%, crude oils and fats 0%, crude fiber 0%, sodium 0%, moisture 1.1%.
Mode of use and administration: Use 2 grams per liter of water or 10 grams per kilo of food for 5-7 days. It can be used the first days of life of the chicks.
Store in a cool and dry place.
Target species: ornamental birds
Presentations of Avianvet Triple Action Probiotic:  250gr, 1 Kg container
Supplementary feed for ornamental birds.