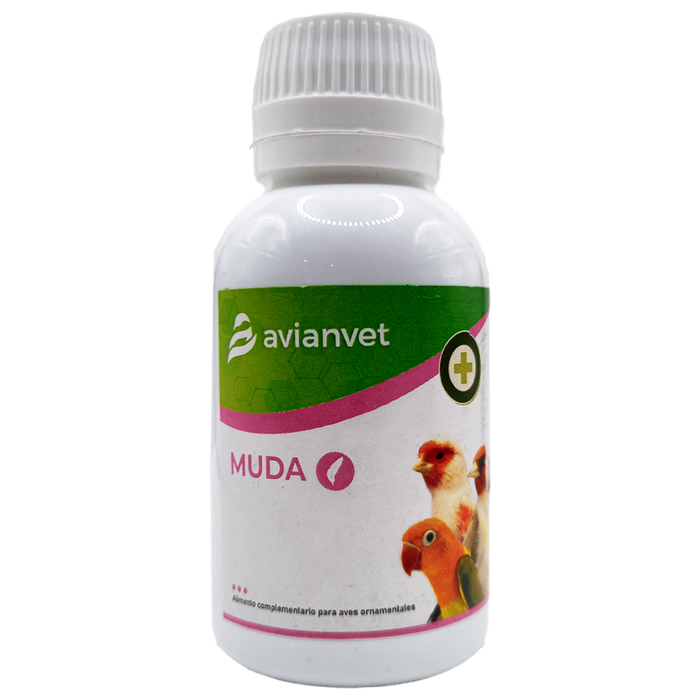 Avianvet Muda
by Avianvet
Muda Avianvet is a complementary food for birds that contains essential amino acids, lysine, tryptophan, choline chloride, B group vitamins, biotin and vitamin K.
Muda Avianvet is a food supplement to add to the drinking water of birds during the molting season.
The essential amino acids, choline chloride and B vitamins can be used during the change of plumage and during the moulting season.
Composition of Muda Avianvet:  Sorbitol, propylene glycol, magnesium chloride.
Additives per ml: Vitamins, provitamins and substances chemically defined as having a similar effect: Vitamin B1(3a820): 0.5mg; Vitamin B2(3a825i):0.30mg; Vitamin B6(3a831): 0.30mg; Vitamin B12: 5mcg; Vitamin k3(3a710):0.4mg; Choline chloride(3a890): 4.2mg; Niacin(3a314): 25mg; Pantothenic acid: 15mg; Biotin(3a880): 0.4mg.
Amino acids, their salts and analogs: L-lysine(3c320): 10mg; Glycine: 10mg; L-Tryptophan(3c440): 25mcg.
Preservatives: Methyl p-hydroxybenzoate (E218): 1.5mg.
Analytical components: Crude protein: 0%; Crude fiber: 0%; Crude oils and fats: <0.5%; Gross ashes: 0%; Water content: 60%.
Target species: ornamental birds.
Mode of use and administration of Shedding Avianvet: Administer 2-3 ml/liter in drinking water in batches of 3-4 days per week during shedding periods. Suitable for all kinds of cage birds.
Presentation of Muda Avianvet: 33.8 oz bottle (500ml), 3.38 oz. (100ml)
Supplementary feed for ornamental birds.