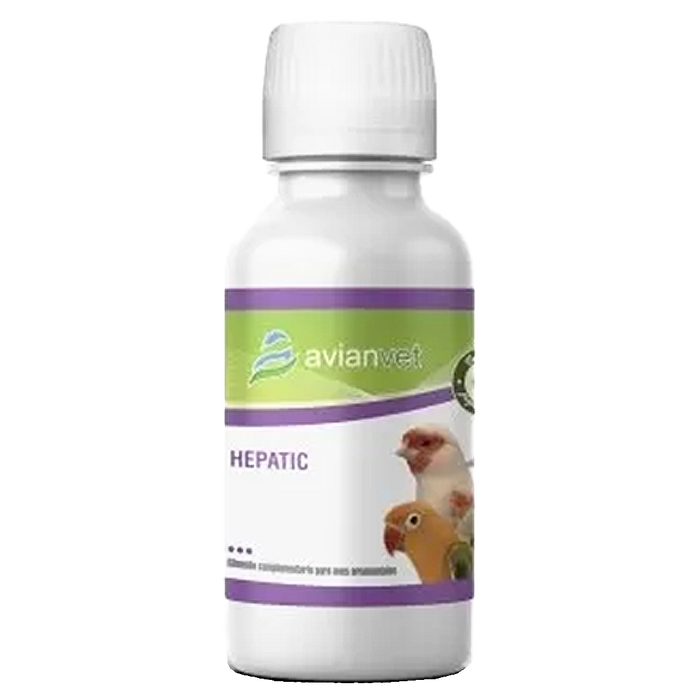 Avianvet Hepatic
by Avianvet
Hepatic Avianvet is a complementary food for birds made up of DL Carnitine, Betaine, Sorbitol, as well as numerous essential oils.
Composition of Hepatic Avianvet:  Sorbitol, magnesium sulfate heptahydrate, algae meal.
Additives per liter: Vitamins, provitamins and chemically well-defined substances with a similar effect: DL- Carnitine hydrochloride (3a910): 67,500mg, Betaine Hydrochloride (3a925): 25mg
Flavourings: Mix of flavorings: 12,500mg
Analytical components:  Crude protein: 0.2%; Crude fiber: 0.3%; Crude oils and fats: 0%; Gross ash: 3.02%; Sulphur: 3.9%; Magnesium: 3%; Sodium: 0%; Lysine: 0%; Methionine: 0%.
Target species: Ornamental birds.
Mode of use and administration of Hepatic Avianvet:  Administration in drinking water the amount of 2 ml/liter of Hepatic per liter of drinking water for 7-10 days.
Presentation of Hepatic Avianvet:  3.38 oz (100 ml) 33.8 oz bottle (1 Liter)
Complementary feed for ornamental birds