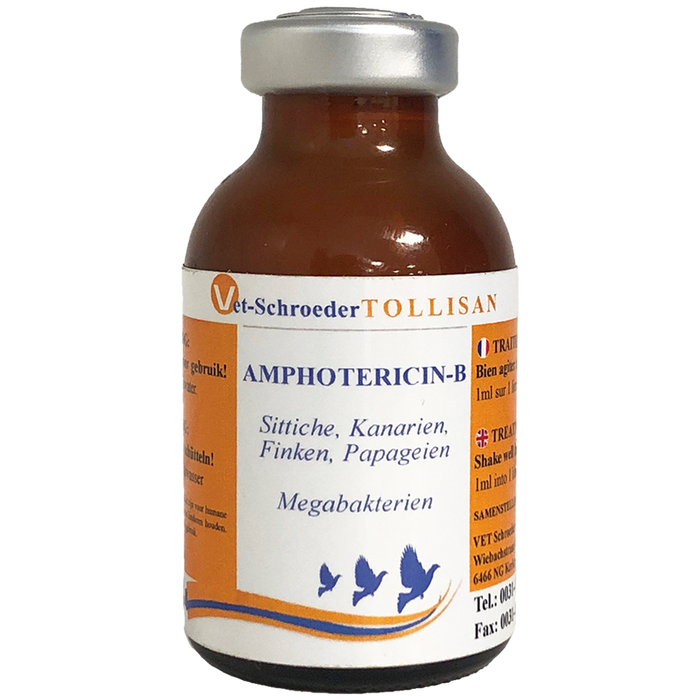 Vet-Schroeder Tollisan Amphotericin-B 20 ml
by Vet-Schroeder Tollisan
20 ml
The name Mega bacteria is a dreaded name to parakeets, canaries, parrots and other birds. Often also both other names "black dot" or "going light syndrome" are mentioned for the sickening of the birds. Specialists worldwide speak of "Macrorhabdus ornithogaster".
Sources of infection are of course as almost ever droppings and contaminated drinking water. Acquisitions and bird shows are also big sources of infection. The name Mega bacteria indicates that antibiotics should be used as therapy!
Stop, totally wrong!
The pathogen is actually completely insensitive to antibiotics!
Effective is only a therapy with an anti-fungus treatment, that contains Amphotericin-B. This must be administered for a longer period of about 20 days. Fact is also, that parakeets, canaries and parrots just like racing- and show pigeons, always have problems with trichomonas and coli bacteria. Especially in problematic stocks the mega bacteria weaken the immune-systems of the animals, so that they are also much more vulnerable for trichomonas and coli bacteria.
Recommended treatment against mega bacteria
Therefore we recommend to always administer our  Kombi-Mischung (2,5 gr/1 litre water) + Amphotericin-B (1 ml/1 litre water) .
5 days of Kombi-Mischung + Amphotericin-B + Med. Tollyamin Forte into the drinkingwater or over the corn. Then another 15 days  Amphotericin-B + Med. Tollyamin Forte into the drinkingwater.
Also remarkable is, that for treatment and prevention of the mega bacteria often (apple cider) vinegar is recommended, as to be read in many forums. Vinegar should apparently acidify the drinking water. But with a simple vinegar not a single effect will occur in the stomach anymore. Modern acids like pH-Control are all buffered and therefore do not have a high effect until in the stomach and intestines against sickening bacteria as present in the sickness caused by mega bacteria in parakeets, canaries and parrots.
If, on top of that, one sees the low price for a bottle of pH-control and the health of our beloved pets is involved, one can hardly understand the stupidities in forums regarding vinegar.
Therefore, it would be better, regarding prevention and health keeping, to administer a natural health cure, consisting of:
5 ml pH-Control + 5 ml Med. Tollyamin Forte + 5 ml Dosto RopAdeno + 1 ml Dosto-Oregano Flüssig 12%
in 1 litre of drinkingwater 2-3 days per week.
This is especially recommended after shows and acquisitions.
A last tip for sick birds is an administration of protein as in our Immunol. As is true, in many forums it is said that almost all protein products contain too much sugar in the form of lactose, which is a common reason for gastro-intestinal problems in the animals. In Immunol the sugar was removed, and it contains an egg powder that is rich of antibodies. So the product is not only a high-quality protein mix without sugar, but also works preventative against many pathogen intestinal bacteria.
Dosage
1 ml into 1 liter of drinking water
Ingredients