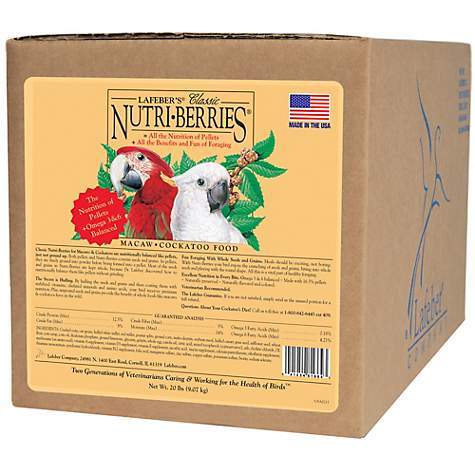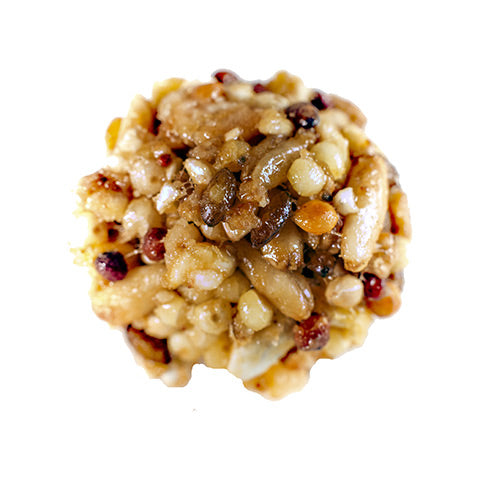 Lafeber Classic Nutri-Berries Macaw/Cockatoo 20lb
by Lafeber
The Lafeber difference is that we've perfected a way to nutritionally balance our foods without sacrificing taste and texture the way regular pellets do. Macaw & Cockatoo Nutri-Berries have all the essential vitamins and minerals, but instead of being ground up and put into a pellet form, the hulled seeds and grains are left whole. Macaw & Cockatoo Nutri-Berries also contain 16.5% pellets bound together with wholesome ingredients, and they are coated with chelated minerals for better absorption and stabilized vitamins for better longevity.
Most of the seeds and grains in Nutri-Berries are kept whole because Dr. Lafeber discovered how to nutritionally balance them without grinding, and hulling them keeps the nutrition right where it belongs — in each and every bite. We also balance the omega 3 & 6 fatty acids to boost your bird's immune system and to promote healthy skin and feathers. Our foods are naturally preserved and free of artificial colors, so you can feel good about offering them to your parrot.
Exceptional high rate of birds' acceptability compared to regular pellets
Omega 3 & 6 fatty acid balanced
Naturally preserved & flavored
Made in the USA on the Lafeber Family Farm
Can be offered as a complete diet or as a healthy treat
Macaw & Cockatoo Nutri-Berries
Corn, Oat Groats, Hulled White Proso Millet, Red Millet, Peanut Splits, Maltodextrin, Hulled Canary Grass Seed, Safflower, Wheat, Soybean Meal, Corn Syrup, Corn Oil, Dicalcium Phosphate, Glycerin, Plant-Based Propylene Glycol, Ground Limestone, Gelatin, Dried Whole Egg, Iodized Salt, Canola Oil, Choline Chloride, DL-Methionine, Citric Acid (A Natural Preservative), Mixed Tocopherols For Freshness, Vitamin E Supplement, Ascorbic Acid, Niacin Supplement, Manganese Proteinate, Zinc Proteinate, Carotene, Calcium Pantothenate, Biotin, Riboflavin Supplement, Sodium Selenite, Pyridoxine Hydrochloride, Copper Proteinate, Thiamine Mononitrate, Vitamin B12 Supplement, Vitamin D3 Supplement, Natural Colors, Folic Acid.
Guaranteed Analysis
Crude Protein (min): 12.50%
Crude Fat (min): 8.00%
Crude Fiber (max): 5.00%
Moisture (max): 14.00%
Omega 3 Fatty Acids (min): 0.18%
Omega 6 Fatty Acids (min): 4.21%
Package Dimensions:
10 ounce: 10 x 6.75 x 2 inches
3.5 pound: 6 x 8.25 x 8.25 inches
20 pound: 10.5 x 9.5 x 13 inches